*ART *FILM
(current calendar links)


MONTHLY READING SERIES -
Open Mic


RADIO and more.


A LITTLE HISTORY


WEB LINKS

LOVE in ACTION Projects
events on the calendar that show this little red heart are what S. F. Heart calls love in action projects, benefits, fundraiser's for good causes.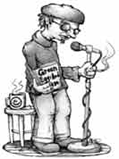 Please support the Venues found within the San Francisco Art and Poetry Calendar each month who are providing space for our local artists, poets, writers, musicians other creative individuals to do what they love.
Adobe Books
3130 24th Street
San Francisco
415 864-3936
~*~
Alley Cat Bookstore and Gallery
3036 24th Street
San Francisco
415-824-1761
~*~
Art House Gallery & Cultural Center
2905 Shattuck Ave.
Berkeley, Ca.
~*~
Bazaar Cafe
5927 California Street -
between 21st / 22nd Avenue -
9am - 10pm Daily
(415) 831-5620
San Francisco map
~*~
Beat Museum
540 Broadway
North Beach
San Francisco
~*~
Bird & Beckett Books
and Cultural Legacy Project
653 Chenery St.
bet. Diamond and Castro
San Francisco
(415)586-3733
ongoing Live music series
~*~
The Booksmith
1644 Haight St.
San Francisco
~*~
new! THE BINDERY
1727 Haight Street
San Francisco
~*~
Book Club of California
312 Sutter Street
San Francisco
(415) 781-7532
~*~
The Brava Theater
Women in the Arts
2781 24th Street
San Francisco
~*~
California Historical Society
678 Mission Street
San Francisco
~*~
Clarion Performing Arts Center
816 Sacramento St.
San Francisco
~*~
Center for New Music
55 Taylor St.
San Francisco
(map and hours)
(415) 275-2466
~*~
City Arts & Lectures
upcoming events
~*~
City Lights Bookstore
261 Columbus Avenue
San Francisco
(415) 362-8193
~*~
Contemporary Jewish Museum
736 Mission Street
San Francisco
~*~
De Young Museum
50 Hagiwara Tea Garden Dr.
Golden Gate Park
San Francisco
~*~
Folio Books
3957 24th Street
San Francisco
~*~
Galería de la Raza
2857 24th Street
San Francisco
~*~
Green Apple Books
506 Clement St.
San Francisco
Event calendar
for both Green Apple locations
~*~
Green Apple Books on the Park
1231 9th Ave
San Francisco
~*~
The Green Arcade
1680 Market Street @Gough
San Francisco
(415) 431-6800
~*~
Jewish Community Library
1835 Ellis Street
San Francisco
~*~
The Legion of Honor
100 34th Avenue
San Francisco map
~*~
La Promenade Cafe
3643 Balboa St.@38th Ave
San Francisco
~*~
Mechanics' Institute Library
57 Post St.
San Francisco
~*~
Mission Cultural Center for Latino Arts
MCCLA
2868 Mission Street
San Francisco (map)
~*~
Museum Of African Diaspora
685 Mission St
San Francisco
~*~
Red Poppy Arthouse
2698 Folsom St
San Francisco
(415) 826.2402
~*~
Sacred Grounds Cafe
2095 Hayes @ Cole
San Francisco
~*~
San Francisco Center for the Book
~*~
San Francisco Public Library
100 Larkin St
San Francisco
(415) 557-4400
~*~
SF Live Arts at Cyprian's
2097 Turk Street @ Lyon
San Francisco map
(415) 454.5238

Unitarian Universalist Society
1187 Franklin St (@ Geary)
San Francisco.
~*~
Free Museum Days
Free - always.
California Academy of Sciences 
~*~



2017 is the 20th Anniversary of
sfheart.com and the 11th year of the
San Francisco Art and Poetry Calendar (since 2006)
To Submit an Event
♥~*~♥~*~♥
The San Francisco Art and Poetry Calendar is a continuous work in progress. If you see a typo,or an inaccuracy, please contact me
so I can correct it!
nicole, sfheart
~*~
*note: occasionally events and/or participants are subject to change without notification.
The grass must bend when the wind
blows across it. ...Confucius
~*~