EVENT CALENDARS

ONGOING READING SERIES & other suggestions for each day.


ART SHOWS ~ GALLERIES


FILM (calendar links)


WEB LINKS



SF FAIRS & FESTIVALS
links for NOVEMBER

San Francisco's locally published Haight Ashbery Literary Journal subscription and submission information

LOVE in ACTION Projects
events on the calendar that show this little red heart are what SF Heart calls Love in Action projects,benefits,volunteer,
fundraiser'sfor good causes.

Please support the Venues found here each month who are providing space for our local artists , poets, writers, musicians and other creative individuals to do what they love.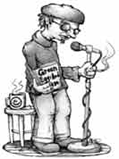 Adobe Books
3130 24th Street
San Francisco
415 864-3936
~*~
Alley Cat Bookstore and Gallery
3036 24th Street
San Francisco
415-824-1761
~*~
Art House Gallery & Cultural Center
2905 Shattuck Ave.
Berkeley, Ca.
~*~
Beat Museum
540 Broadway
North Beach
San Francisco
~*~
Bird & Beckett Books & Records
+LIVE MUSIC SERIES and more
653 Chenery St.
bet. Diamond and Castro
San Francisco
(415)586-3733
*****
~*~
The Booksmith
1644 Haight St.
San Francisco
~*~
THE BINDERY
1727 Haight Street
San Francisco
~*~
Book Club of California
312 Sutter Street
San Francisco
(415) 781-7532
~*~
Book Passage
1 Ferry Building
San Francisco
(415) 835-1020
~*~
The Brava Theater
Women in the Arts
2781 24th Street
San Francisco
~*~
California Historical Society
678 Mission Street
San Francisco
~*~
Clarion Music Center
2 Waverly Place
San Francisco
415-391-1317
Clara Hsu ~ Poetic Journey
~*~
Center for New Music
55 Taylor St.
San Francisco
(map and hours)
(415) 275-2466
~*~
City Arts & Lectures
upcoming events
~*~
City Lights Booksellers
261 Columbus Avenue
San Francisco
(415) 362-8193
~*~
Folio Books
3957 24th Street
San Francisco
~*~
Galería de la Raza
2857 24th Street
San Francisco
~*~
Green Apple Books
506 Clement St.
San Francisco
Event calendar
for both Green Apple locations
~*~
Green Apple Books on the Park
1231 9th Ave
San Francisco
~*~
The Green Arcade
1680 Market Street @Gough
San Francisco
(415) 431-6800
~*~
Jewish Community Library
1835 Ellis Street
San Francisco
~*~
La Promenade Cafe
3643 Balboa St.@38th Ave
San Francisco
~*~
Mechanics' Institute Library
57 Post St.
San Francisco
~*~
Mission Cultural Center for Latino Arts
MCCLA
2868 Mission Street
San Francisco (map)
~*~
Museum of the African Diaspora
685 Mission St (at 3rd)
San Francisco ~ Get directions
Nourse Theater
275 Hayes St,
San Francisco
(415) 392-4400
~*~
Other Minds
55 Taylor St.
San Francisco
~*~
Red Poppy Arthouse
2698 Folsom St
San Francisco
(415) 826.2402
~*~
Sacred Grounds Cafe
2095 Hayes @ Cole
San Francisco
~*~
San Francisco Center for the Book
~*~
San Francisco Public Library
100 Larkin St
San Francisco
(415) 557-4400
~*~
SF Live Arts at Cyprian's
2097 Turk Street @ Lyon
San Francisco map
(415) 454.5238

Unitarian Universalist Society
1187 Franklin St (@ Geary)
San Francisco.
~*~
~*~
Conservatory of Flowers
100 John F. Kennedy Drive
Golden Gate Park
map - directions - parking
~*~
San Francisco Botanical Garden
Golden Gate Park, near the corner of Ninth Avenue and Lincoln Way.
Calendar of Events