EVENT CALENDARS
Bay Area calendars
for Poetry, Art and Literature Events
Poetry Flash
SF Station
SF Arts

Peace & Justice Calendars
Global Exchange
Bay Area IndymediaSF
for upcoming civic actions


ONGOING *ART *FILM


MONTHLY READING SERIES
Open Mic

RADIO and more.


LOVE in ACTION Projects
events on the calendar that show this little red heart are what S. F. Heart calls love in action projects, benefits, fundraiser's for good causes.
San Francisco Mime Troupe San Francisco
415-285-1717


Help the San Francisco Mime Troupe
all donations are tax deductible
RESOURCES
Bay Area Literacy
California Poets in the Schools

BAY AREA JOURNALS
& SUBMISSION SUGGESTIONS
Haight Ashbury Literary Review
E-Mail or 415-751-9226
Indigo Hotchkiss
Ambush Review submissions
1859 Powell St, #122
San Francisco, CA 94133
Editors: Bob Booker -Patrick Cahill
North Coast Literary Review
Online submission for print journal

JOHN RHODES. loves what he does. He is the guy with the video camera who is usually seen tirelessly recording poets and poetry readings, putting them on TV and Youtube. He is the one who makes it possible for Bay Area poets and their poetry to appear in public access televisions nationally. Now John is in need for some financial help.


Please go to the link below to see John's message and give what you can to help him.. Any amount will be appreciated.
http://handup.us/members/john3


WE ARE ALL POETS
-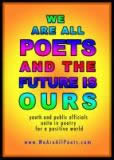 Youth poetry program organized by Jambu Press / Studio Saraswati in collaboration with the Children's Center of the San Francisco Main Public Library.
Students from grades 4th - 12th are invited to write and submit poems. The 2014-2015 theme is: "The Power of Peace."
Submissions accepted till Mar. 1, 2015.

Guidelines & Submission form