There are nights in San Francisco
When even the bedbugs come out to pray
Amongst the forest that is life here
And streets I believe I've been on before
Become hallucinations,
Every steep hill climbed,
An applause for gravity…
But I've taken it for granted
For over 30 years
The seven hills, the cable cars,
The view from Twin Peaks
On a crisp, November night…
I fall in love with cities
The way most people fall in love,
Shamelessly hopeful in the beginning,
Careless, naïve and blind…
And there are nights in San Francisco
I would wish to forget
Like a waning romance,
Waiting to crash,
Never looking back
At the wreckage behind.
© Joie Cook
Micheline
O, poet of the street
Of the sound
Of the sun, moon and stars!

Dancing magnificent with oils and pastels…

Your hands, the motion of simple divinity.
Mentor for all future satyrs and princes…

Let there be your voice howling at the moon
Under a river of red wine
Beckoning the night into chaos!

O, refugee of Greenwich Village nights
Master of the oral tradition

Death so far away, only the sound of saxophones
Collectively unconscious in your midst,
The true voice of America's
Underbelly of madness and desire…

Hold precious the word of the street poet,
Steam rising from brain, pants, lungs…

Lover of rain and all things rained on
Keeper of the truth,
O scorpion genie

Wacky Dacky Doo, here's to you
The one and only Jack Micheline!

Joie Cook was a performance artist par excellence and a well-known firebrand of San Francisco's poetry haunts.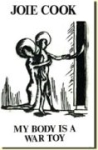 Joie's chapbooks include
Cash for Color TVs,Gorton Press, 1984, My body is a War Toy,Zeitgeist, 1990, Acts of Submission, ManicD Press, 1990, Lust for Life, Mel Thompson Publishing, 1993, and Take Ten,(2012)
Her poetry is included in Beatitude #33, #34, #35 and Beatitude Poetry International- vol.2, 1992, and the Beatitude Golden Anniversary 1959- 2009,
Latif Harris-Neeli Cherkovski Editors.
Joie Cook's work has also been published in the book New American Underground Poetry Vol. 1: The Babarians of San Francisco-Poets from Hell of which she was a celebrated member.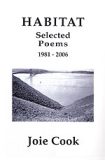 Habitat – Selected Poems1981 - 2006 by Joie Cook
www.zeitgeist-press.com
Joie Cook's first full-length book of poetry.
"Uncompromisingly lonely, this portrait refuses to paint the witnessed reality without also giving us
glimpses of the essential grace and gentleness of her soul." ... Vince Storti,artist, poet and editor of 'The North Coast Review' (from the Introduction).


Joie's books and performances are legendary in San Francisco, though her habitat has included New York, New Orleans, Baltimore, Provincetown, San Diego, Portland and Seattle. Especially beloved in bohemian poetry communities in North Beach and the Mission district of San Francisco, Joie Cook was the first featured poet inaugurating the infamous Cafe Babar series of the 1980s.
Her work is widely appreciated and admired. ....Zeitgeist Press.