There Are Nights In San Francisco

There are nights in San Francisco
When even the bedbugs come out to pray
Amongst the forest that is life here
And streets I believe I've been on before
Become hallucinations,
Every steep hill climbed,
An applause for gravity…
But I've taken it for granted
For over 30 years
The seven hills, the cable cars,
The view from Twin Peaks
On a crisp, November night…
I fall in love with cities
The way most people fall in love,
Shamelessly hopeful in the beginning,
Careless, naïve and blind…
And there are nights in San Francisco
I would wish to forget
Like a waning romance,
Waiting to crash,
Never looking back
At the wreckage behind.
© Joie Cook
Micheline
O, poet of the street
Of the sound
Of the sun, moon and stars!

Dancing magnificent with oils and pastels…

Your hands, the motion of simple divinity.
Mentor for all future satyrs and princes…

Let there be your voice howling at the moon
Under a river of red wine
Beckoning the night into chaos!

O, refugee of Greenwich Village nights
Master of the oral tradition

Death so far away, only the sound of saxophones
Collectively unconscious in your midst,
The true voice of America's
Underbelly of madness and desire…

Hold precious the word of the street poet,
Steam rising from brain, pants, lungs…

Lover of rain and all things rained on
Keeper of the truth,
O scorpion genie

Wacky Dacky Doo, here's to you
The one and only Jack Micheline!

Joie Cook was a performance artist par excellence and a well-known firebrand of San Francisco's poetry haunts.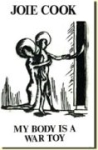 Joie's chapbooks include
Cash for Color TVs,Gorton Press, 1984, My body is a War Toy,Zeitgeist, 1990, Acts of Submission, ManicD Press, 1990, Lust for Life, Mel Thompson Publishing, 1993, and Take Ten,(2012)
Her poetry is included in Beatitude #33, #34, #35 and Beatitude Poetry International- vol.2, 1992, and the Beatitude Golden Anniversary 1959- 2009,
Latif Harris-Neeli Cherkovski Editors.
Joie Cook's work has also been published in the book New American Underground Poetry Vol. 1: The Babarians of San Francisco-Poets from Hell of which she was a celebrated member.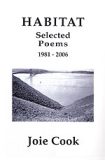 Habitat – Selected Poems1981 - 2006 by Joie Cook
www.zeitgeist-press.com
Joie Cook's first full-length book of poetry.
"Uncompromisingly lonely, this portrait refuses to paint the witnessed reality without also giving us
glimpses of the essential grace and gentleness of her soul." ... Vince Storti,artist, poet and editor of 'The North Coast Review' (from the Introduction).


Joie's books and performances are legendary in San Francisco, though her habitat has included New York, New Orleans, Baltimore, Provincetown, San Diego, Portland and Seattle. Especially beloved in bohemian poetry communities in North Beach and the Mission district of San Francisco, Joie Cook was the first featured poet inaugurating the infamous Cafe Babar series of the 1980s.
Her work is widely appreciated and admired. ....Zeitgeist Press.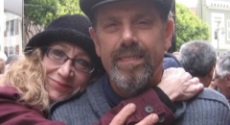 Joie Cook and her beloved husband David Picariello.
Poem for Joie
Why do I come to your poetry readings?
Because I like the way you handle pain, baby.
You spit in its eye.
Sometimes you cry.
Sometimes you go off dancing, anyway.

by Peter Sherburn Zimmer,
poem from Feb. 2007

"No longer marginal to her great personality but,
outside herself, poetically recognized and deservedly so."
Jack Hirschman
"Rosemary said emphatically--
If I could, I would LIVE outdoors!"
There was a path
We followed it down to the creek
Standing naked pulling the water up to our
bellies It was spring
and West Virginia
Where Becky taught me how to camp
Although I couldn't remember today
How to pitch a tent
The breeze of a different coast
Wraps round my skin now
I cannot find the girl who taught me to
Light a sterno stove, AlI know is
To play my guitar.
The is my natural contribution.
Strings strummed amongst the evergreens.

JoieEnchantment (for Vampyre Mike)
by Joie Cook

7 more poems by Joie Cook
In loving memory of JOIE COOK

Joie in chaps (Copyright 2013)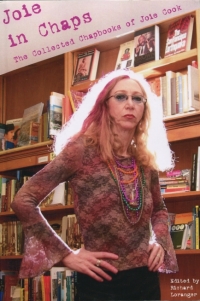 Joie Cook died in 2013.
"Joie Cook is THE no-bullshit voice of post-Beat,
pro-punk, late-Capitalist San Francisco, who calls it like she sees it, INcisively. She is the rantmaster, the soothsayer, the truthteller channeling song and shuriken and chakras like there was no tomorrow." -from the Editor's Note by Richard Lorganger
Available at www.zeitgeist-press.com
~*~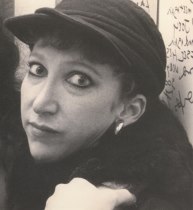 Joie Cook 35th birthday ~
photo-@michelle boleyn

You Are As We Are

You are
We were
A beautiful equation

Equal to the blooming crocuses
Of my childhood walks
Along the parkway

And we are
Can be
A new incarnation

As time swallows love
And love swallows time

Outside the fishbowl
Of still life poses
A tainted photograph collects dust
(an older rendition of our lost portraiture)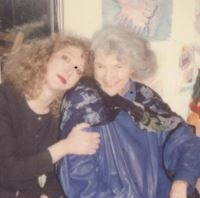 Joie - 35th birthday with Eileen Kaufman
For Bob Kaufman
He put on a suit to go die in.
Couldn't get busted there,
At the rest home.
In his grave, the Pacific,
Where ashes were scattered
By love's sad surrender.
Only a Merchant Marine
Would expect to be buried this way
Only a poet would say,
"I would die for poetry."
And he did.
Joie Cook
She is fighting Love: Selections from the chapbook of Joie Cook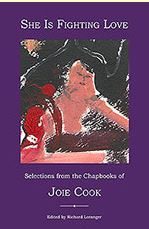 Edited by Richard Loranger.

Available at www.zeitgeist-press.com
(2013)
More Joie Cook poetry online
Black Keys Joie Cook

Just Me And The Girls
(published in Beatitude Magazine)
3 poems by Joie Cook
Joie Cook at Chelsea Square
PolkStreet-1985

A video of Joie Cook by Evan Karp
poem for Joie Cook by Jan Steckel
A Mini Interview with Joie Cook by Scot Young
(March 16, 2009

We are all that we have by Joie Cook
from chapbook,Take Ten, 2012,
Poems by Joie Cook-Art by James Redo