The Revolution in North Beach
The revolution in North Beach
sits at a table
in Caffe Trieste
It talks to a homeless man
sitting on the steps
in front of a church
It discusses
conspiracy theories of the rich
over glasses of wine
It murmurs with others
around table
at Specs.
They break into abrupt laughter
The revolution in North Beach
makes shrines to Fidel
and hangs them on the living room wall
The revolution comes out of the mouth
of the gun
that sits locked away at home
away from the children.
Someone buys the revolution a drink
and they plan to go out to dinner later
It shares a joint
in a doorway
in Vallejo street
The revolution writes in a little notebook
"America is the middle class of the world."
© John Dowling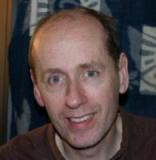 This poem was published in 'The North Beach Beat', Issue December, 2003 It is also included in John Dowling's illustrated chapbook titled "Lost Opportunity"
REST IN PEACE
On Dec. 16, 2012 poet, artist and publisher, John Dowling died in his sleep at home in North Beach. He was a gentle man and beloved by all who knew him.
(photo of John by Rebecca Peters)
John Dowling, a long time resident of San Francisco, was born Ausust 7, 1956 in Northampton, MA, the son of the late John P. and Dorothy (Addis) Dowling,
A 1979 graduate of the University of Massachusetts School of Fine Arts, he was an artist all his life, and enjoyed traveling, most recently to Vietnam, and painting and photographing the world around him. In addition to many close friends in San Francisco and Vietnam, he is survived by his sister Katherine Keefe and her husband Richard of Thompson, CT, sister Elizabeth Dowling of Northampton, MA, nephew James Keefe and his wife Jordan of Franklin, MA, and niece Jennifer Keefe of South Windsor, CT. His ashes will be scattered in the San Francisco Bay he loved so much, and a celebration of his life was held by family and friends on, December 23 at Caffe Trieste on Vallejo Street.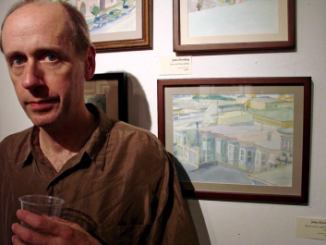 Live Worms Gallery ~ Lucky 13 Art Show North Beach
photo found on http://www.artbusiness.com/1open/092508.html