Susan Birkeland
January 18, 1961 ~ Nov. 18 2006

City Of Love
Sing to me from budding trees
Carry on and carry less
O My City
O My Lover
A hometown that needs no defenses?
Love without envy?
An easy life?
A happy death?
Know these blue skies and clean water
for every thirsty foreign child
friends of friends I've never met
smiling fat girls and
uncles in freedom's lucky trance.
Mercy stands by the road
drawing circles in the dry red earth
with the corner of his soft boot.
My father is an optimist.
My mother, slow and old and practical.
What holds us together.
City of Love
The Return of Mercy
Some day.
Some say.
Some do say.

© Susan Birkeland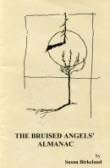 This poem is from Susan Birkeland's
chapbook of poetry and drawings
"The Bruised Angel Almanac" (2006)


Susan Birkeland was a dazzling comet blasted into a world growing darker. A beautiful woman and fierce champion of justice and mercy. Willing to sacrifice all for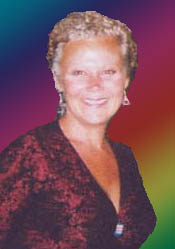 love, she was propelled by love of the other. Grasping truth and beauty, she fed them back to us. Susan developed her gifts and shared her heart's true motive of peace with love for her community and all life on earth. She pushed through her fears and met her life's challenges head on . Following her heart's dedication to Truth and Beauty Susan Birkeland sent her consciousness spiraling upward, a sunflower dancing, twirling, celebrating life. Illuminating herself, she illuminated us all.
A poet, a writer and teacher as well as a Drama Therapist, Susan was born in Hibbing , Minnesota, grew up in Texas, worked and performed original works in California and Texas for some years before finding her heart in San Francisco and becoming a respected and beloved voice among San Francisco's poetic artistic North Beach community. Susan lived in the sunny Mission District until succumbing to Cancer at the age of 45....Nicole Savage, editor sfheart.com.
Susan Birkeland was a poet, painter, performance artist and drama therapist. Her work has appeared in Left Curve Magazine, The North Coast Review, Puck Magazine, Zen Baby, The Haight Ashbury Literary Journal, The North Beach Journal, The Trinity Review, Pangolin Papers, and An Eye For A Eye Makes the Whole World Blind.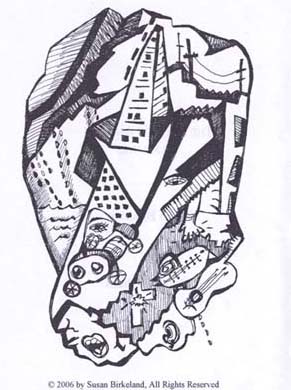 "Love is no matter what
Mercy is no matter how
Justice is no matter who
Hope is no matter when."
-Susan Birkeland
September 17, 2011
2nd European FESTIVAL of POETRY
Antwerp, Belgium
ANTWERPEN PERMEKE LIBRARY
Two of the poets whose work will be presented at this Festival were found in San Francisco.




devorah major and Susan Birkeland
Poets, translators as well as the festival producers, Annmarie Sauer and Fred Schywek the organizers for the 2nd European Festival of Poetry and Hafenklänge, Havenklanken, Sounds of Harbor, a multi-lingual project of internet publishing. went online seeking western poets to participate in, they found devorah major, San Francisco Poet Laureate 2002 through 2006, and our own dear Susan Birkeland. And they did not even realize at first that Susan was no longer available for poetry readings having left this worldly plane,.
READ MORE ABOUT IT ~ ENJOY THE WHOLE STORY AND THE LINKS
OPEN/CLOSE

.
Annmarie Sauer first contacted me in February 2011 to check on copyright.
I contacted Susan's beloved sister Debbie Birkeland and she gave her permission for them to use Susan's poetry.
Annmarie and Fred translated two of Susan's Poems and one was also translated into song, all three to be performed at the Festival. They even came here to San Francisco to visit and have a few of Susan's friends record several of her other poems which will be available to hear at the Festival as well.

Visit Annmarie's blog Muddy Roads and dusty Trailsfor more on her work and their visit to San Francisco -and the other good works she does as well.

A trilingual anthology called Harbors of the West was produced and sold online from World Internet Books (spring 2012).

I feel that what happened for Susan is of great significance.
Susan Birkeland did not even have to be able to show up - to receive this honor.
They were able to feel Susan's spirit, her loving kindness and profound compassion, through those few poems she left in her only chapbook,

The Bruised Angels' Almanac published 2006 by Zeitgeist Press
The whole experience makes me smile and I like to imagine Susan is smiling too.
nicole, sfheart.com~