City Of Love
Sing to me from budding trees
Carry on and carry less
O My City
O My Lover
A hometown that needs no defenses?
Love without envy?
An easy life?
A happy death?
Know these blue skies and clean water
for every thirsty foreign child
friends of friends I've never met
smiling fat girls and
uncles in freedom's lucky trance.
Mercy stands by the road
drawing circles in the dry red earth
with the corner of his soft boot.
My father is an optimist.
My mother, slow and old and practical.
What holds us together.
City of Love
The Return of Mercy
Some day.
Some say.
Some do say.

© Susan Birkeland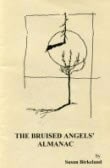 This poem is from Susan Birkeland's
chapbook of poetry and drawings
"The Bruised Angel Almanac" (2006)

available from Zeitgeist Press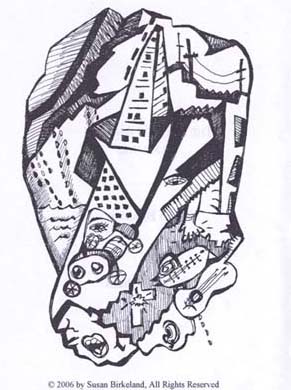 Susan Birkeland was a poet, painter, performance artist and drama therapist. Her work has appeared in Left Curve Magazine, The North Coast Review, Puck Magazine, Zen Baby, The Haight Ashbury Literary Journal, The North Beach Journal, The Trinity Review, Pangolin Papers, and An Eye For A Eye Makes the Whole World Blind.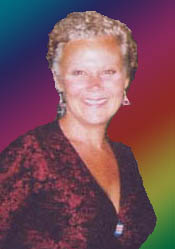 Susan Birkeland lived and loved in San Francisco,