Broadway Queen of 2004

In the morning I hit the pavement.
Three hours of stands. Just waiting.
If it's cold, I take a doorway for a while.
Never talk to kids,
I look people straight in the eye.
"Can you help me."
That's all I say,
Nothing more.

Old man came by yesterday,
Didn't look like much.
Took the block next to mine.
No problem.
Didn't get much myself, but
I watched.

Old man too new at this.
People, most people,
are straight about it.
They ignore if they have to,
Say sorry if they can't.
Sometimes I get a stare.
Sometimes even a mumble.

I ain't got no sad story to tell.
My hard times are my own.
I guess people tell themselves
a philosophy or two
to keep their distance from me.

The old man probably
Won't be back tomorrow.
He doesn't have enough experience being worthless.

© Peter Sherburn-Zimmer,

Leaves in the Grate for Tony Vaughan

- Oct.1,2008)


Enchantment for Dan Harrington,-

Dec. 1, 2009


Poets 11 Finale Peter Sherburn Zimmer

2013




filmed by the San Francisco International Poetry Library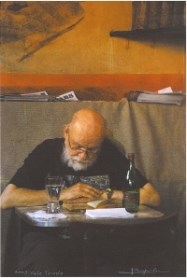 "The Poet"
Peter Sherburn-Zimmer
reading at Cafe Trieste
photo: Leonardas Surgalia
what may a poem be?
a poem may be
the exposed bone
and its raw flesh,

or a child's toy
in the room with
no corner
a watch and intense
living
or the architectural
interstices of a tough mind.
simple, rich shared
awareness
every stitch a sample
of enchantment...

© Peter Sherburn-Zimmer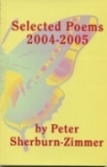 Current Bio: butterfly, anarchist, pacifist, agnostic. slum kid with a Ph.D.
former academic, retired philosopher....in SF this time since 93, 1st time 67;
1st poem, 1963...some degrees. some friends. then 3 children. 2 poetry books
[Selected Poems, 2004-1005 and Approximations] and
Poetry: Open to Interpretation [Wallace Stevens]. former recluse.
Published in anthologies and broadsides by Rothenberg [Jerome], Vince Storti,
Ronald Sauer & Rebecca Peters, Fanny Renor, Neeli Cherkovski, SF Public Library.
Just likes to write, listen to his friends and read... and talk to people on the bus.

Our beloved friend Peter Sherburn Zimmer departed this world on February 17, 2019.