Winterland
2000 Post Street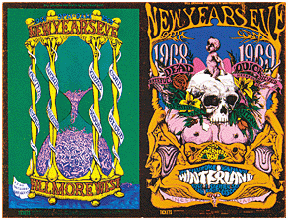 Originally built as a skating rink, the Winterland, where The Band played "The Last Waltz," is gone replaced by condominiums. The Winterland was a gigantic place with bleachers lining the sides. It was not as cozy as some of the other places I went in those days. But I did see and hear some great bands there.
On my birthday Jan 5, 1968, my friends took me to Winterland to see Steve Miller Blues Band which was and still is one of my favorite bands. In 1972 there were four nights of The Rolling Stone. I would have to say the highlight of my experience at Winterland was the night I saw Jimi Hendrix record "Live at Winterland recorded" 1968. I also remember one night that was a real surpize. We saw a man named Virgil Fox who played an amplified organ. He played what he called "Heavy Organ ". I would love to hear that again. It was sensational. Bill Graham closed The Winterland in in 1978. The closing show that New Year`s Eve featured The Grateful Dead and The Blues Brothers.
Closing of Winterland: December 31 1978 CD
Grateful Dead - The Closing of Winterland 2 disc DVD
Website created by S.F.Heart©1997 - 2019 all rights reserved.
All products and company names mentioned herein are the trademarks of their respective owners.