The Saloon
1232 Upper Grant Avenue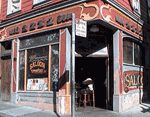 The Saloon is a small bar with a postage stamp dance floor that has been at this location as a bar since the late 1860`s.
It is housed in one of North Beach's oldest buildings. It survived the earthquake and fire of 1906.
Originally called Wagner Bear Hall. The proprietor was Ferdinand E. Wagner who came to America from France in 1836. He lived in Louisiana and after he obtained his American citizenship in 1843 he returned to France, found true love and brought her back to America. He came to San Francisco in 1852 but unlike everyone else he did not go off searching for gold in' dem dar hills' but rather opened his little Wagner Beer Hall. His son Edward took over from 1869-1884.
Legend has it that in the 1880's,it was quite dangerous to get drunk at this bar as it was a sure place to be shanghaied and sent off on ships that were hard pressed to find sailors willing to sign on for long, badly paid sea voyages. The building survived the '06 earthquake and also survived the fires because the firemen were determined that no harm would come to the prostitutes who worked upstairs.
Tom Browne owned the bar in the 1970's and '80's. At that time there was still an old safe there and Tommy had a locksmith open it for him.
Among the papers found inside was a plumbing bill dated 1860.
I started going there in 1968 and have been going back ever since. It is without a doubt one of the funkiest bars I have ever seen. I dig the vibes there.
The music is GREAT. You just never know who you might see there. Some of the best blues and rock and roll bands have played there over the years and still do.

S.F.Heart©2006 Copyright. All Rights Reserved.