Purple Onion
140 Columbus Avenue @ Pacific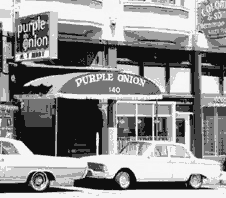 Made famous by the Kingston Trio, Phyllis Diller and the Smothers Brothers. In fact, the Smothers Brothers recorded their first album "Live at The Purple Onion "here. Phyllis Diller debuted there.
Rod Enrico Banducci suggested the name to owner Bud Steinhoff who ran the club from 1952 until he died in 1989. Maya Angelou sang and danced there as well as unknown Vicki Carr. After Steinhoff`s death it hosted everything from Mod to surf instrumentalists.
Hooray!! Comedy has finally returned to the Purple Onion!
Website created by S.F.Heart©1997 - 2019 all rights reserved.
All products and company names mentioned herein are the trademarks of their respective owners.