What's Going On
(Al Cleveland/Marvin Gaye/Renaldo Benson)
Album: What's Going On ~ Released May 21, 1971
Marvin Gaye was dissatisfied withthe sons he was recording with Motown.
Personal tragedy and the social changes occuring in the our country had Marvin Gaye
feeling dissatisfied with the songs he was recording withMotown. He spent the most of 1970
in seclusion, then early the next year, brought out his first self-produced album, What's Going On.
The songs on the album were true to Gaye's deep spiritual beliefs and explored issues ranging from
poverty and discrimination to the environment, drug abuse and political corruption; as well
as concerns over conflict in Vietnam, which Marvin Gaye presented from the point
of view of his brother Frankie, himself a soldier recently returned from combat.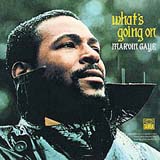 Lyrics
Mother, mother
There's too many of you crying
Brother, brother, brother
There's far too many of you dying
You know we've got to find a way
To bring some lovin' here today - Ya
Father, father
We don't need to escalate
You see, war is not the answer
For only love can conquer hate
You know we've got to find a way
To bring some lovin' here today
Picket lines and picket signs
Don't punish me with brutality
Talk to me, so you can see
Oh, what's going on
What's going on
Ya, what's going on
Ah, what's going on
In the mean time
Right on, baby
Right on
Right on
Father, father, everybody thinks we're wrong
Oh, but who are they to judge us
Simply because our hair is long
Oh, you know we've got to find a way
To bring some understanding here today
Oh
Picket lines and picket signs
Don't punish me with brutality
Talk to me
So you can see
What's going on
Ya, what's going on
Tell me what's going on
I'll tell you what's going on - Uh
Right on baby
Right on baby