Get Together
Youngbloods (1969)
Album: The Get Together/Elephant Mountain
Written by Dino Valenti of Quicksilver Messenger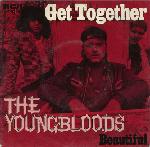 Formed in 1965 in Boston, Massachusetts, the Youngbloods band was formed
by folk singers Jesse Colin Young and Jerry Corbitt. Later they were joined by
jazz drummer Joe Bauer and guitarist/pianist Lowell Levinger III, better known
simply as Banana. The band's reading of Dino Valenti's "Get Together" became a hit
in California where it was adopted as a counter-culture anthem. The lyrics
perfectly captured the mood of late-60's Californian rock music.


Lyrics:

Love is but a song we sing
And fear's the way we die.
You can make the mountains ring
Or make the angels cry.
Though the bird is on the wing
And you may not know why.

C'mon people now
Smile on your brother
Ev'rybody get together
Try to love one another right now

Some will come and some will go
And we shall surely pass.
When the one that left us here
Returns for us at last.
We are but a moment's sunlight
Fading in the grass.

C'mon people now
Smile on your brother
Ev'rybody get together
Try to love one another right now

If you hear the song we sing
You will understand.
You hold the key to love and fear
In your trembling hand.
Just one key unlocks them both
It's there at your command
C'mon people now
Smile on your brother
Ev'rybody get together
Try to love one another right now
Right now Right now